Tempo Young Adult Resource Center
A one-stop resource center helping young adults transition to adulthood
Tempo is a one-stop resource center for young adults with extra challenges. We focus on achievement, employment, schooling, healthy relationships, and practical skills to reach future goals. Young adults learn to be leaders, learners, workers, and role models.Tempo helps unconditionally so that young people with extra challenges can become healthy, productive adults.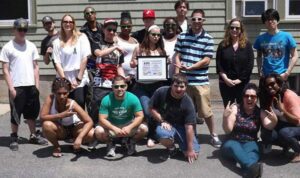 All youth face major life decisions between the ages of 17 and 24. When young people have grown up in foster care or residential programs, without strong family or community support, and with emotional, behavioral, or substance abuse problems, they may also face challenges of homelessness, hopelessness, depression and prison.
Tempo addresses the urgent need for services for youth at the critical point of transition into adulthood. Tempo's diverse staff use a youth-centered planning process to help young adults develop goals, provide the tools they need, and walk with them through the steps to their goals.
Programs
Tempo coordinates resources from local service providers, including:
Comprehensive, youth-centered goal setting and planning process (Wayside)
Career development and employment supports and services (Future Skills Institute)
Legal advocacy and access to benefits (Advocates)
Housing search and placement and substance abuse treatment (South Middlesex Opportunity Council)
Health education and assessment (Edward M. Kennedy Community Health Center)
Resources
Comprehensive employment and work-related services
Legal advocacy and access to mainstream benefit programs
Housing search and support
Community health educators and access to health care
Recovery groups oriented specifically toward young adults
Independent living skills workshops
Peer leadership and parent support groups
Social networking, community service, and healthy recreational events
Practical assistance with transportation and other basic needs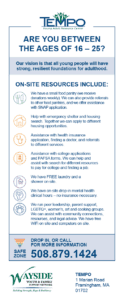 I was one of those "lost souls" and now I'm one that people can look up too. More importantly I can look at myself and like what I see. I know I have a future and the support I need to get there and stay there. I am so thankful for the staff at Tempo for giving me the chance to show myself that I can lead a normal life and that I am worthy of happiness."