A Strategic Vision
In keeping with our organizational vision, Wayside's leadership developed a Strategic Plan to continue the work outlined in the previous plan and outline our strategic goals for the next four years. A cornerstone for our future planning was refocusing on our core population.
Introduction and Mission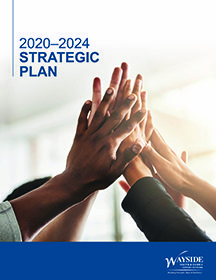 Wayside began in 1977 when a group of local citizens opened Harbinger House, one of the first emergency shelters for homeless and runaway youth in New England. As the need for alternatives to orphanages, reform schools, and psychiatric hospitals grew, Wayside developed services focused specifically on supporting youth and families in their communities. Today, Wayside is one of the most respected human service agencies in the state supporting more than 6,000 children, youth and families each year throughout Central, Eastern and Northeastern Massachusetts. Wayside provides a variety of high-quality services including family-based outreach services, care coordination services, residential treatment programs and community-based counseling.
Mission: Empowering children, young adults and families to achieve greater independence and emotional well-being.

Executive Summary
Over the course of 2019 Wayside engaged in a comprehensive process to develop its 2020-2024 strategic plan. This effort was led by the Board of Directors and involved reaching out to external stakeholders, over 100 Wayside staff (in sessions facilitated by Jay Vogt from Peoplesworth), key informant surveys and interviews (conducted by Public Consulting Group), interviews of Wayside clients and parents, a review of our client satisfaction data, financial data, and workforce analysis.
The results were profound. Wayside is undertaking five specific impact goals:1. Strengthen, improve and measure the quality and impact of our services.2. Expand existing programs services and geography, while strengthening the financial health of the agency. 3. Respond to the needs of a more focused Wayside mission population. 4. Create a culture of wellness for our employees to support them in the very difficult work they do for us, our communities and children and families. 5. Invest in the career development of our employees to achieve long-term retention engagement. Wayside will also be embarking on a number of strategic initiatives including advancing permanency work for all youth in our long-term residential programs.