A Strategic Vision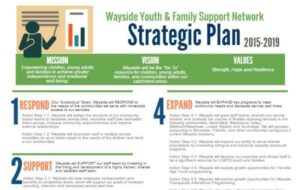 In keeping with our organizational vision, Wayside leadership has undertaken a strategic planning process to determine the strategic goals for the next four years.  A crucial cornerstone for our future planning was an updating of our Agency Mission Statement and a concurrent reaffirmation of our agency Core Values.
Alongside the early phases of our Strategic Planning Process outlined below, Wayside's staff, Senior  Management, and Board of Directors all engaged in a process through which the agency's Mission Statement was updated.
At the Board of Director's Meeting on December 2, 2014, the Board voted to approve the new agency Mission Statement: "Empowering children, young adults and families to achieve greater independence and emotional well-being."
Wayside's new Mission Statement, in concert with a review of our Core Values, continued to inform our direction throughout the development of our new Strategic Plan.