Grandparent Caregiver Support Group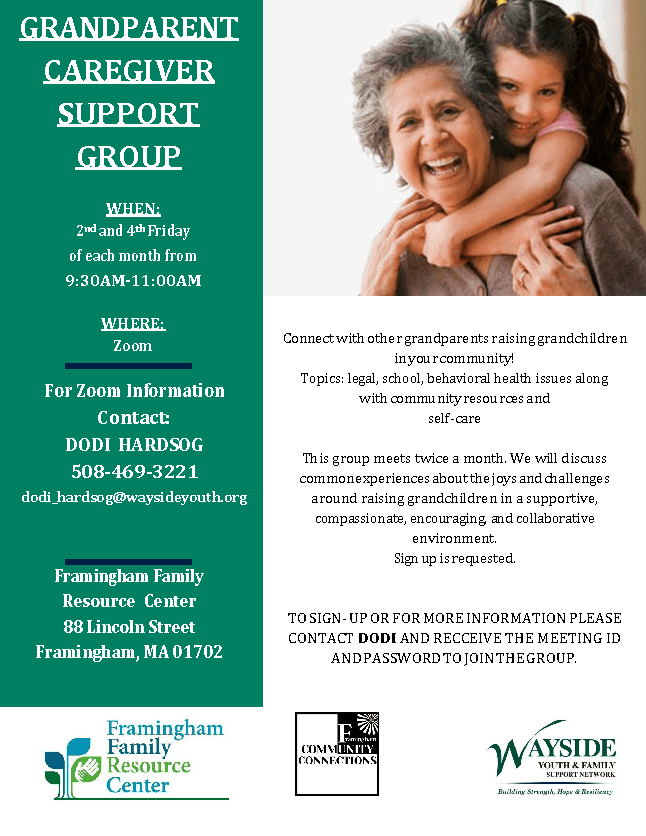 Connect with other grandparents raising grandchildren in your community! Topics: legal, school, behavioral health issues along with community resources and self-care.
This group meets twice a month. We will discuss common experiences about the joys and challenge s around raising grandchildren in a supportive, compassionate, encouraging and collaborative environment.
Sign up is requested.
TO SIGN- UP OR FOR MORE INFORMATION PLEASE CONTACT DODI AND RECCEIVE THE MEETING ID AND PASSWORD TO JOINTHEGROUP.
When: 2nd and 4th Friday of each month from 9:30am-11:00am
Where: Zoom
For Zoom Information Contact:
Dodi Hardsog
Phone: 508-469-3221
Email: [email protected]
Framingham Family Resource Center
88 Lincoln Street
Framingham, MA 01702