Residential Services
Residential services tailored to meet the needs of teens requiring out-of-home placement.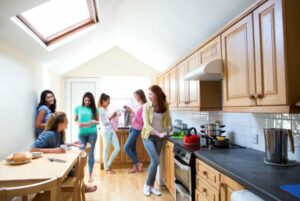 There are times when outpatient therapy is not enough to support adolescents with mental health issues. When children are unsafe at home and need additional care, it may be time for residential treatment.
Wayside Campus residential services provide 24-hour care in a safe, secure and welcoming environment. With lengths of stay lasting anywhere from a few days to a few months, Wayside Campus's flexible residential services meet the varying needs of youth needing an out-of-home placement. We provide the ideal balance between intensive care and the social and recreational benefits of a campus setting. Our facility boasts six residential homes, each with living space for 12 teens; onsite nursing and psychiatric care; library; a gymnasium and a sports field.
We know that being away from home is hard for children – and for their families too. Therefore, we do our very best to make their stays as short as possible. Further, while youth are here, we work with families to set up community supports and after-care plans for a seamless transition home.
Below are descriptions of the types of residential services we have available at the Wayside Campus. Please contact us if you would like more information (including how to access these services).