One Anti-Racist Action You Can Take Today: Learn About the Progress Pride Flag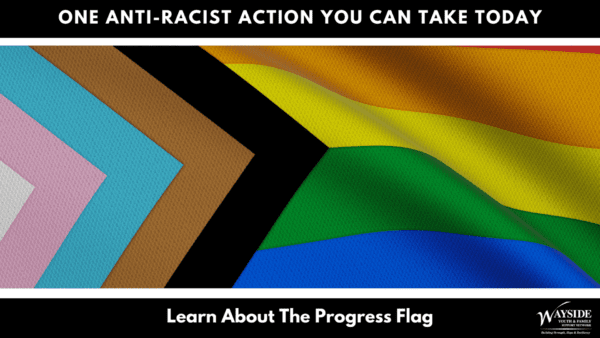 Vice President of People & Culture
For the last 42 years, Gilbert Baker's rainbow striped flag has been the internationally recognized symbol of the LGBT community. This year, cities, cultural institutions, brands and activists around the world have simultaneously and without any coordination, are adopting 'The Progress Flag' as their new symbol for the community instead. Designed by Daniel Quasar in 2018, it features black and brown stripes to represent people of color, and baby blue, pink and white to include the trans flag in its design.
From the London Mayor's office, to Boston Pride and even cultural institutions like the U.K.'s Southbank Centre – the symbol being used represent LGBT people is changing. It's all part of a drive to be more inclusive of the expansive breath of identity within the community.
This year, for the first time ever, Wayside held a flag-raising ceremony and unveiled the Pride Progress Flag that will be hoisted on our Framingham Campus.
Pride Month:
Pride Month is celebrated every June as a tribute to those who were involved in the Stonewall Riots. Each year, we dust off our rainbow flags, douse ourselves in glitter, and join in the fun to celebrate LGBTQ+ rights. With parades, festivals, and concerts going on across the globe, there's always a way to get involved and learn about some important social history along the way.
History of Pride Month
On June 28, 1969, police raided the Stonewall Inn, a gay bar in New York City's Greenwich Village neighborhood. Patrons and staff spilled out of the bar and out onto Christopher Street where crowds began to form. The raid sparked an uprising and the LBGT community to fight back by taking to the streets. One of the many activists said to have led the riots was a black, trans, bisexual woman named Marsha P. Johnson. The message was clear — protestors demanded the establishment of places where LGBT+ people could go and be open about their sexual orientation without fear of arrest.
Bisexual activist Brenda Howard is largely credited with starting Pride Month. Known as 'The Mother of Pride,' Brenda organized Gay Pride Week and the Christopher Street Liberation Day Parade a year after the Stonewall Riots. This eventually morphed into what we now know as the New York City Pride March and was the catalyst for the formation of similar parades and marches across the world.
Speaking of the rainbow flag, it was actually gay politician Harvey Milk who asked a talented designer friend, Gilbert Baker, to design an all-encompassing symbol to take to San Francisco's Pride March in 1978. Sadly, Harvey Milk was assassinated along with Mayor George Moscone on November 23, 1978, in San Francisco City Hall by Dan White, a disgruntled former supervisor who was angry at Milk for lobbying against having him reappointed on the Board of Supervisors.
Source: https://nationaltoday.com/pride-month/
https://www.history.com/topics/gay-rights/the-stonewall-riots