One Anti-Racist Action You Can Take Today: Black Women Are at the Forefront of Social Change, Follow Them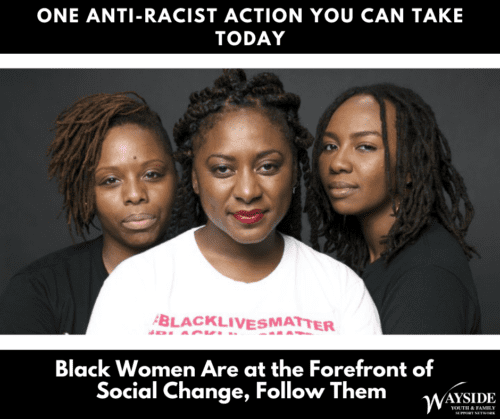 Michelle Hillman
Marketing & Communication Manager
On Martin Luther King Jr. Day, the late icon's daughter, Bernice King, reminded people to honor the contributions her mother made to the Civil Rights Movement.
As you honor my father today, please honor my mother, as well. She was the architect of the King Legacy and founder of @TheKingCenter, which she founded less than three months after Daddy died. Without #CorettaScottKing, there would be no #MLKDay."
Black women have been relegated to the sidelines and the targets of sexism for too long. Scott King faced sexism after her husband's death from Black preachers who worked with her husband but refused to work with her.
Women have been the backbone of the whole civil rights movement. Women have been the ones who have made it possible for the movement to be a mass movement," Scott King has been quoted saying.
Black women are creating and leading modern civil and human rights movements. The Black Lives Matter movement was founded by three Black women. The #SayHerName campaign was founded by scholar of critical race theory, Kimberle Crenshaw, to bring attention to police brutality against Black women.
From the activist Tamika Mallory, who spoke before a crowd of protesters in Minneapolis, to the Black Lives Matter co-founder Patrisse Cullors, who promoted the growing movement to defund the police, black women are at the forefront of the protests sparked by the police killings of George Floyd, Breonna Taylor, and Tony McDade. But the prominence of black women in these protests is not a sudden development. In taking to the streets in support of their goals, they are building upon a rich tradition of black women's organizing," –  "The Black Women Who Paved the Way for This Moment," by Keisha N. Blain.
After MLK's assassination in 1968 Coretta fought tirelessly for 15 years to create a federal holiday honoring her husband. She founded The King Center and continued to spread his vison of a "Beloved Community" across the globe and supported pro-democracy movements until she died at 78.
"I am an activist," she said years after her husband's death, according to The Atlantic. "I didn't just emerge after Martin died — I was always there and involved."
Resources:
https://medium.com/@W.A.N.D./coretta-scott-king-was-an-activist-not-just-the-woman-behind-the-man-4e03c28b94d1
https://www.today.com/news/mlk-day-bernice-king-remembers-mother-coretta-scott-too-t206027?cid=sm_npd_td_tw_ma
https://www.politico.com/newsletters/women-rule/2020/06/12/how-women-make-protests-more-successful-489512