Join Our Team Overview
Diverse & Inclusive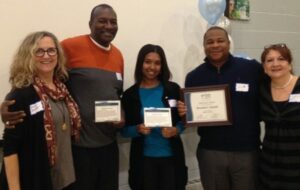 Wayside is committed to an inclusive, diverse, vibrant workforce that reflects the communities we serve, celebrates the rich diversity of our children, youth, families and employees and believes that by harnessing the power of our collective similarities and differences we can better serve our mission.
Therefore, we are dedicated through open communication and ongoing education to increase awareness and pledge to seek out and respect diverse voices in all aspects of our work.
Wayside strives to :
Ensure the ongoing focus of agency diversity
Ensure the hiring and retention of diverse staff.
Ensure the ratio of diverse employees accurately reflects the diversity of Wayside's clients.
Ensure the recognition of various ethnicities and cultures through agency-wide events and trainings.
Why Wayside?
We asked Wayside staff why they came to work with us. Check out their answers! SURVEY RESULTS
Strong Benefits
With over 400 employees dedicated to serving others, Wayside is considered one of the leading human service agencies in Massachusetts, possessing some of the most talented and caring  professionals. We are looking for creative, dynamic people to work with us to make a difference in the lives of the people we serve.
Wayside provides friendly and supportive work environment with real job satisfaction and opportunities to develop your skills.  Wayside offers a comprehensive benefits package that may include:
Health and dental insurance
Flexible Spending Account
Education Assistance/Tuition reimbursement – up to $2,000 per year
12 days paid vacation first year; increasing steadily over time to 25 days after 10 years of employment
8 paid holidays
3 floating holidays
Annual Sick Leave 5 days per year
403B Retirement Plan with match provided by Wayside
Life, AD&D and Disability insurance
Employee Assistance Program
Career Ladder and Job Advancement
Significant salary differential for bilingual Masters level Clinicians with specific language fluency
If you are passionate about helping others and want to make a difference, we would like to hear from you. Browse our employment opportunities for more information and to check out our current job openings.