Internships
Now Placing Interns for the 2019-2020 school year!
Wayside is a teaching and training facility that provides graduate and undergraduate students with internships and clinical placement.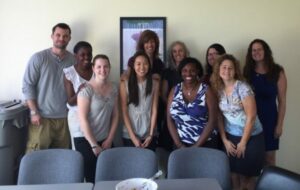 Each year, Wayside welcomes a large group of student interns from Social Work, Counseling Psychology, Marriage and Family Therapy and Expressive Therapy programs, to name a few. Field placements are arranged in our agency components; Community Services and Residential and Day Services.
Student interns participate in Wayside programming and training and are integrated into our day to day delivering of support services to clients. Our interns are integral and important members of our team and are included in Wayside's mission of providing responsible and effective client care. While our interns receive excellent training and supervision from us, we, too, benefit from our interns energy, experience and education.
Below is a list of all our currently active internships. If you are interested please apply through our Employment Opportunities page!
For more information contact our Director of Recruitment & Inclusion, Amy Hogarth, at

[email protected]

.
Graduate Internships
Final year 9-month Masters Level interns will be given a $2,000 stipend in three payments. Those with specific language capacity will receive an additional $1,000 for a total of $3,000.
Undergraduate Internships