Holiday Giving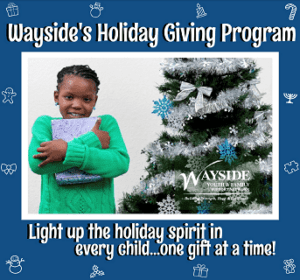 Each year, Wayside is overwhelmed by the generosity of those in our community who respond and help make the holidays a little brighter for the kids and families we work with.
For kids and families facing some of life's greatest obstacles, the holidays are a particularly stressful time. For teens living at our Campus, the holidays can be a painful reminder that they are not with their families.  For youth living in the community and struggling with addiction, this season can challenge even the strongest commitment to sobriety.  For children and families coping with mental illness, holiday expectations can be overwhelming.
During the holidays, Wayside's Holiday Giving Program helps provide to the kids that Wayside works with some of the things we want all kids to have during the holidays – a gift to unwrap, a special meal, a day blessed with health and peace, surrounded by caring people.
Amazon Wish Lists
This year, several Wayside program sites have created Amazon Wish Lists to make giving easier this season.  Gifts can simply be purchased through Amazon and they can be delivered right to the program! Below is a list of programs that are participating – just click through to make a purchase!
More Ways to Give this Holiday
The simplest way to give this holiday season is by making a secure online donation here. We will use your funds where we need them most.
Give in honor or in memory of someone special in your life – we will send them (or their family) a note letting them know you have made a donation in their name.
Speaking of Amazon, select Wayside as your charity of choice through the Amazon Smile Program and we will receive .5% of every purchase you make!  To set it up, click this link and login with your Amazon username and password. Then select Wayside Youth & Family Support Network as your designated charity. And then shop!
Organize a giving drive at your workplace or school. In addition to holiday gifts, our community continues to need basic items like food, clothing (especially coats and winter gear) and household items. Contact us to set it up.
Are you trying to reduce the STUFF in your life? Consider designating Wayside as your charity of choice this season – and directing folks to make a donation in your name to help kids & families rather than purchasing you a gift.  Contact us

 

to set it up.
Double your donation. If your employer offers a matching gift program, your gift will be doubled!
Use that holiday party as a fundraiser! Consider hosting a fundraiser for Wayside at your business, restaurant or group/organization. Contact us

 

to set it up.